The Asian Business Development Research Center (a member of the World Entrepreneurs Club) has just appraised and granted the Certificate of Excellence Product/Service - World Class 2022 for Economic Initiative: "Renascent Permaculture Settlement" by Master Nguyen Van Cuong – Chairman of the Board of Directors of An Sinh Nhan Nghia Investment Joint Stock Company (Vietnam) (according to Certificate No. 90/2022-ASIA-DNCA). At the same time, this Initiative was voted to win the title: Product – Service of International Quality 2022" and is expected to organize the awarding ceremony in the Announcement Ceremony of "Asia's Leading Prestigious Brand 2022" taking place on 28 August, 2022 at the Military Theater – Hanoi, Vietnam
This Initiative aims to provide solutions to build new rural; mountainous and ethnic minority areas develop intelligently and sustainably according to Decision No. 263/QĐ-TTg dated February 22, 2022 of the Vietnam Prime Minister on approving the National Target Program on new rural construction in the period 2021-2025 and Decision No. 1719/QĐ-TTg dated October 14, 2021 on approving the National Target Program on socio-economic development in ethnic minority and mountainous areas in the period of 2021 - 2030, phase I: from 2021 to 2025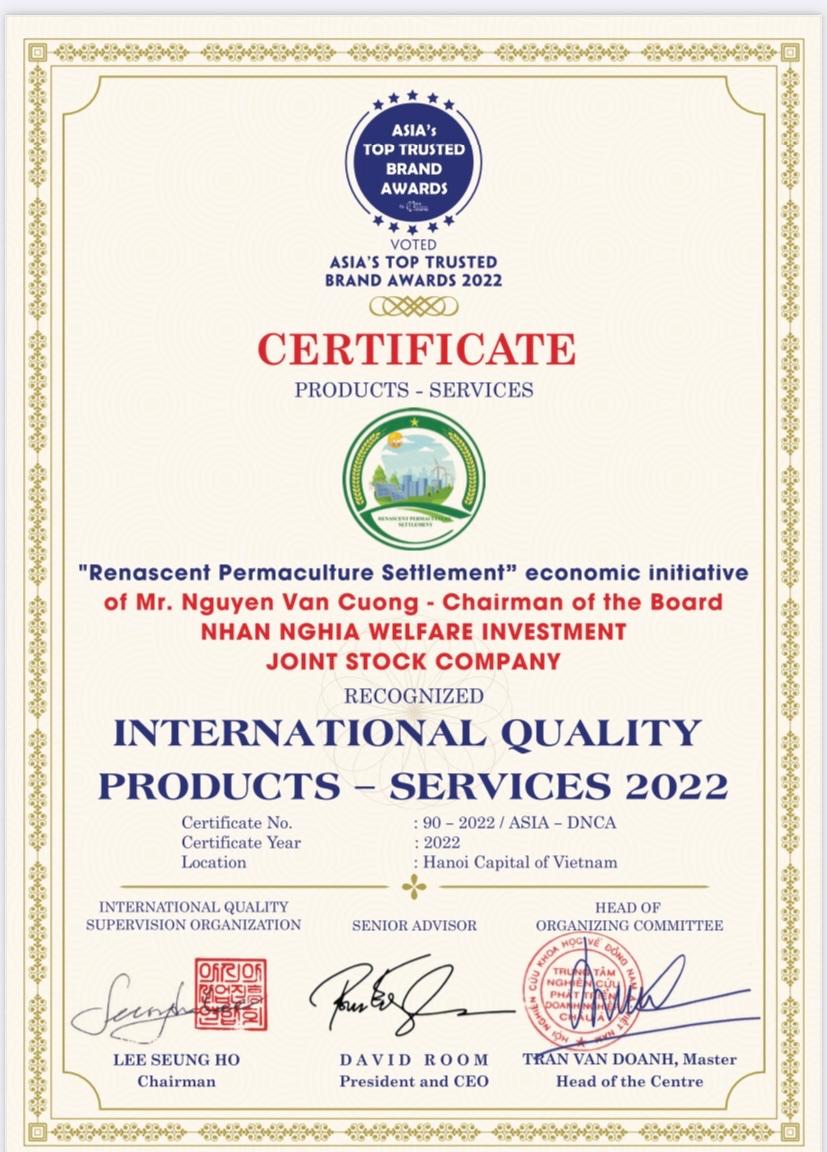 The initiative has received the opinions from leading experts in agriculture, economy, commerce, planning - architecture, culture, education ... of Vietnam such as: Prof. Dr. Vo Tong Xuan (Principal of Can Tho Southern University); Prof. Dr. Nguyen Tuan Hoa (Director of Green Economics Institute); Prof. Dr. Nguyen Dong Duc (Deputy Director of the Institute of Traditional Medicine of the Vietnamese Militia); Prof. Dr. Vu Gia Hien (Director of Applied Cultural Research Center, Vietnam Academy of Social Science); Dr. Tran Quang Thang – Director of the Ho Chi Minh City Institute of Economics and Management); Dr. Ngo Quang Xuan, former Ambassador of Vietnam to the United Nations; Expert Mr. David Martin Nguyen and Dr. Nguyen Thanh My – Co-head of Village – Village of Inventions and Innovation Enterprises, Ministry of Science and Technology; Journalist Phan Thi My Yen – Chairman of the Council of The Center for Applied Research and Development of Vietnamese Brands, Permanent Vice President, General Secretary Vietnam Association of Science and Technology Enterprises...
Some of the main contents of the Initiative
1. Objectives:
Building residential areas in rural areas in the direction of modernity, sustainability, large-scale production

of

high

-

value

goods

Building rural areas where

"a bird would perch in a safe place"

Piloting the Initiative in 01 to 03 application projects, proceeding to implement the Initiative in 8 key economic regions of the country
2. Target Beneficiaries of the Initiative
Benefits of the disadvantaged people: all activities in the rural area are focused to serve the interests of local people in rural, ethnic

minority

, mountainous and border areas. Smallholder farmers and their families, workers in all food-related industries, and those living in economies that depend on

commodities and

tourism are particularly vulnerable. This

is the first priority target of the Initiative.

Benefits of

S

ociety: all activities in the Rural Area must ensure 17 sustainable development criteria of the United Nations and 19 criteria for new rural development in

accordance with

the conditions of each region

Benefits

of

Investor

s

: The rural area ensures profit

s

for investors and reinvests to serve the community
3. Action Programs of Rural Area
Economic initiative: "Renascent Permaculture Settlement" includes 10 action programs to solve two main tasks: solves two main tasks:
+ Creating stable jobs and high incomes for people such as training, providing training, providing seeds, fertilizers, materials and consuming products in agricultural, forestry and fishery production.
+By helping businesses develop their businesses sustainably, they will bring a positive impact on farming households.
+ The planning of the rural residential system is determined on natural conditions, ensuring stable and convenient living conditions in trade and production, gradually developing rural areas in a modern way but still retaining the cultural identity of each region;
+ Eliminating the gap between urban and rural areas little by little
4. Socio-economic efficiency of the Initiative
4.1 Economic efficiency
Agricultural area

s

create high value by applying economic models such as: Autonomous

Economic

;

Circular economy; Sharing economy; High-tech application and

digital

transformation

With a highly efficient economy, the agricultural area is expected to be

a

place to: Create high value, be the pillar for the Vietnamese economy; Ensure food security for 100 million Vietnamese people and contributing to the supply of

a

part of food to the world
4.2 Social efficiency
The rural area solves the problem of stable, long-term, high-income employment and modern housing with full social security infrastructure, so it will be a place where "a bird would perch in a safe place" so this model can be deployed in any locality. This will contribute to solving today's social problems:
Rearrange the organization and arrangement of residential space in the direction of prioritizing large land for production to create material wealth for society

Evenly distribute the population among localities to avoid pressure on infrastructure and medical for large urban areas

Gradually

narrowing the gap between rich and poor between urban and rural and mountainous areas; between industry, services and agriculture

Help farmers get rich on their own land without having to fall into the "

live outside of their own home

" situation

Sustainable development, ecological environment

protection and adaptation to

climate

change
An Sinh Nhan Nghia Investment Joint Stock Company was established on May 19, 2020, as a social enterprise, operating with the goal of implementing social security programs and projects such as high-tech agriculture, pharmaceuticals, education, health and environment... Towards green growth, sustainable development, contributing to job creation, hunger eradication, poverty reduction, improving the material and spiritual life of the people and "working together to build a prosperous Vietnam"
With concerns about what to do to contribute to the construction of rural; mountainous and ethnic minority areas in the direction of modernity and sustainable development, Master Nguyen Van Cuong – Chairman of the Board of Directors of the Company, through many years of research has launched the Economic Initiative: "Renascent Permaculture Settlement". This initiative has been granted a Copyright Registration Certificate No. 7753/2021/QTG by the Copyright Office of the Ministry of Culture, Sports and Tourism of Vietnam dated 12/11/2021
In order to effectively implement the Initiative, An Sinh Nhan Nghia Investment Joint Stock Company has built an ecosystem of "Enterprise of Serenity and Prosperity" with 18 business groups including young scientists and science and technology enterprises are ready to cooperate in providing solutions for Initiative Application Projects through the form of consulting units and directly constructing and implementing
At the same time, An Sinh Nhan Nghia Investment Joint Stock Company is developing a plan to coordinate with the Vietnam Brand Research and Development Center – Vietnam Union of Science and Technology Associations and KL Maritime Co., Ltd. to organize an international scientific seminar: Economic Initiative Investment: "Renascent Permaculture Settlement" - solution to build new rural, mountainous and ethnic minority areas for smart and sustainable development" is scheduled to take place in the morning of September 9, 2022 at KLM Financial Building, No. 357 Tran Hung Dao Street, An Hai Tay Ward, Son Tra District, Da Nang City.
Master Nguyen Van Cuong and Ms. Nguyen Thi Ngoc Diem - Chairman of the Board of Directors of KL Maritime Company Signing cooperation agreement to promote financial and trade investment for Initiative application projects
The Initiative has been interested by 03 domestic enterprises, started to apply the Initiative to their investment projects, which is:
Trung Anh High-tech Joint Stock Company

(

Hanoi) applied the Initiative to 02 projects "High-tech agricultural center" in Dong

B

am ward, Thai Nguyen

C

ity, Thai Nguyen

P

rovince; an

area of 10.5 hectares (according to Decision No. 419/Q

Đ

-UBND dated February 13, 2019 of Thai Nguyen Provincial People's Committee) and the project "Investment in the construction of

agricultural

farms

"

in

U

Phao

, Le Phap village, Tien Duong commune, Dong Anh District, Hanoi; an

area of 25,738 m2 ha (according to Decision No. 2419/Q

Đ

-UBND dated 28/9/2009 of the People's Committee of Dong Anh

D

istrict, Hanoi)

Paradise Sky

Corporation

(Lam Dong

P

rovince ) wishes to apply

Initiative

to the project which has been approved by Lam Dong People's Committee for investment policy of

the

"Paradise

Sky S

ports and

E

ntertainment

R

esort"

with an area of 225ha (according to Decision No. 2711/Q

Đ

-UBND dated December 17, 2015 of Lam Dong People's Committee)

(3) HBO Holdings Investment Joint Stock Company (HCMC) is preparing a plan to apply the Initiative to the Project "Pilot implementation of exploiting tourism services in combination with development of agriculture, forestry and aquaculture. seafood in Hoa Vang district" with an area of about 300 ha (according to Decision No. 487/QD-UBND dated February 15, 2022 of the People's Committee of Da Nang City)
In order to find capital and international markets for the Initiative Application Projects, An Sinh Nhan Nghia Investment Joint Stock Company has also contacted partners such as: KL Maritime Company (which is the representative of 02 foreign banks in Vietnam: Exim Credit Bank of Dubai and Sparco Bank G.A of Surinam; M1 International Treasury ( 26th member of the United Nations - UN ID: 626139); Economic & Trade Office Israel - Vietnam; Association for Economic, Cultural and Educational Development Taiwan-Vietnam.
Master Nguyen Van Cuong - the founder of the Initiative wishes that from the above-mentioned noble principle, the Initiative will access capital sources and cooperation from the world's leading inancial institutions such as the World Bank (WB); The Asian Development Bank (ADB); or through the support of UN organizations such as the Food and Agriculture Organization of the United Nations (FAO); The International Labour Organization (ILO); United States Agency for International Development (USAID); Japan's International Cooperation Agency (JICA) ...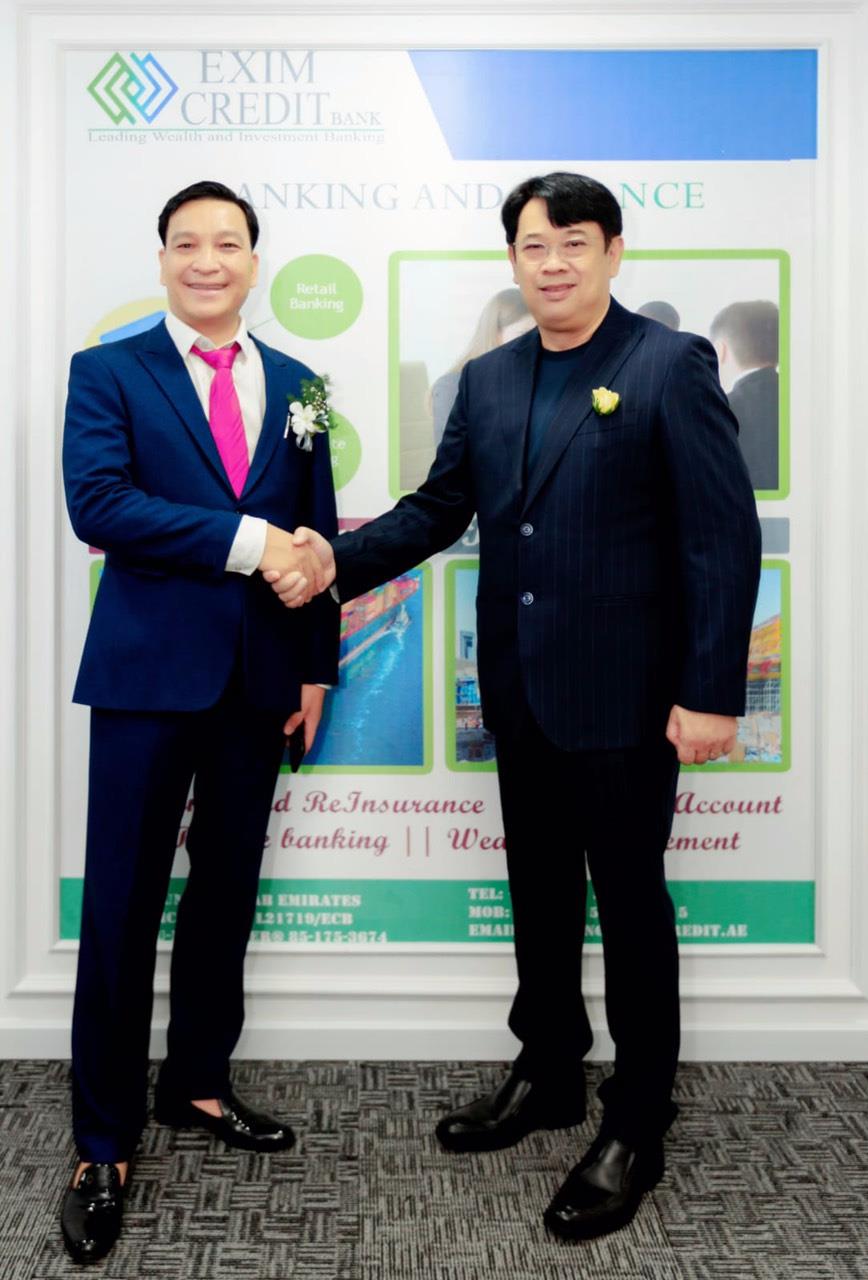 Master Nguyen Van Cuong and Mr C.K.LOW - Chairman of Exim Creadit Bank (Dubai) exchange cooperation and implementation of Economic Initiative: "Renascent Permaculture Settlement"
An Sinh Nhan Nghia Investment Joint Stock Company calls on international financial institutions, domestic and international investors to consider and cooperate with the Company to implement the Initiative to help poor and disadvantaged people have a better life by giving people in disadvantaged areas jobs, high income, stable accommodation, sustainable development, adaptation to climate change, protection of environmental resources.
For each specific Project, based on the area, natural conditions, socio-economic conditions in the locality, the scale of the Project ... An Sinh Nhan Nghia Investment Joint Stock Company will connect investors together with experts to survey, choose technology solutions, search for the market… and offer the most effective production and business plan to help Investors set up investment projects... meet the Government's goals of developing new rural, mountainous and ethnic minority areas and the sustainable development of Investors
Master Nguyen Van Cuong
Email: ansinhnhannghia@gmail.com
Read the Initiative here:
https://bom.so/o3KIfu (VIETNAMESE)
https://bom.so/z6UbAC (ENGLISH)